Starting from the manufacture of innovative products for surveillance and transmission systems in 1993, we believe that the most important aspects of a person's life are assets and health. Therefore, we continue to expand our related products with an attitude of excellence. We are partnered with Patakara Co. Ltd in Japan to produce and sell our self-developed health care products. Following Patakara oral muscle strength training device, Dr. YOSHIAKI AKIHIRO, in line with the doctor's sense of mission to provide care to all people, continues to study characteristics of the oral cavity and face day and night.He has invented a number of breakthrough traditions that are unique and has patented dental and medical equipment in many countries. Dental and medical equipment :ALC can measure the closing strength of the left and right sides of the lips, ARD device that opens the respiratory tract, Hanasen deep breathing training device that can increase the blood oxygen amount by 100 times compared with general breathing, Digital periodontal pocket checker is capable of accurately measuring periodontal pocket depth, and disposable periodontal pocket probes...etc.
All products are designed in Japan and mostly made in Japan. Our company is responsible for sales around the world except Japan. The goal of Actwell and Patakara Japanese partners is to promote these products to every corner of the world to help people in need. In order to provide consumers with more convenient and immediate services, in addition to the original regional distributors, we continue to seek other regional agents to meet customer needs.
Thank you for your interest. We hope that you will benefit from those products.
Inventor file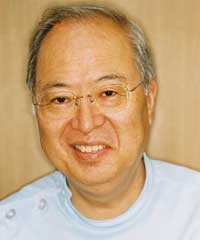 Yoshiaki Akihiro
Patakara Co., Ltd CEO, work place environment health consultant,
Akihiro dentistry consultant
1943 Born in Tokyo
1968 Graduated from Tokyo Dental College
1972 phD, Tokyo Dental College
1975 Open dental surgery in Akishima city, Tokyo
1983 Part-time lecturer at Tokyo Dental College
1986 Workplace environment health consultant
1996 Established Dental Yumi Co., Ltd.
1998 Invented PATAKARA the rehabilitation method for stroke patient
2001 Invented sister product of PATAKARA, TSUGUMI
2003 Invented TULIP
Written book:
"Spacemen don't snore" (sanwa publishing, 2003),
"Reading while standing will enable understanding of snoring" (sanwa publishing, 2004), "Reading while standing will enable understanding of methods relating to training of frontal lobe" (sanwa publishing, 2004), etc.